Welcome to Sliding Miter Saw Hacks. In this blog post, we'll be going over some hacks and tricks for the most popular power saw on the market: a sliding miter saw. This includes everything from safety tips and tricks to how-to's that will make your life easier when using your saw!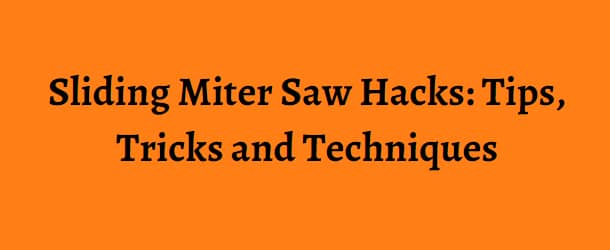 Sliding Miter Saw Hacks
Let's dive into the hacks:
Replace the Stock Blade
One of the quickest and easiest ways to improve the performance of your sliding miter saw is to replace the stock blade with a high-quality one. A better blade will provide sharper, cleaner cuts and make it easier to cut through tougher materials. There are many different blades on the market, so be sure to choose one that is specifically designed for use with a sliding miter saw.
If you are not sure which blade to choose, consult with a professional at your local hardware store or online. They can help you select the right blade for your needs and will be able to guide you through the installation process.
Be sure to read the instructions that come with your new blade carefully before installing it. Many blades include specific safety instructions that must be followed in order to avoid injury.
In addition to replacing the stock blade, there are a few other simple hacks that can improve the performance of your sliding miter saw. Try some of these tips and tricks to get the most out of your saw:
Use a zero-clearance insert to help prevent tear-out and improve the quality of your cuts.
Install an aftermarket fence for more precision when making angled cuts.
Keep your saw blade sharp for cleaner, smoother cuts.
Make sure the miter saw is properly calibrated to ensure accurate results.
Ignore the Carry Handle
Sliding miters saws can be heavy and it often makes sense to carry the tool by its handle. This is what Home Depot, Sears, and other retailers suggest when selling these tools: "Carry Handle – To help you easily move your Sliding Miter Saw around your job site or workshop".
This advice, however, doesn't work very well with most commercial-type miter saws as they have a big plastic housing on top of the grip which adds some weight but has little structural strength because it's made from thin plastic material. When carrying this type of miter saw using the built-in handle, applying too much pressure will cause this flimsy housing part to break apart thus rendering your expensive tool unusable. If you have ever witnessed this happening, it is not a pretty sight. This is why I always tell customers to forget about the carry handle and just use both hands to lift their saw up high enough for them to comfortably walk with the tool before putting it back down on its base or into their truck.
Slick Miter Saw Stand From A Reader
The stand is made from two pieces of wood that are attached together at an angle. This creates a V-shape that the miter saw can slide in and out of. The front piece of wood has a hole drilled in it so the blade can stick through.
This simple design makes the miter saw much more stable. It also allows you to move the saw closer or further away from the workpiece, depending on what you are. Plus, it's really easy to make. You can find the plans for this stand online.
If you are looking for a way to improve your miter saw, I recommend trying this sliding miter saw stand. It's really easy to make and it will help you get better results with your saw. Thanks for sharing this great idea, reader!
Do you have a clever hack or trick that you would like to share? Leave a comment below and let us know! We would love to hear from you.
Wider Cuts
When you need to make wider cuts on your miter saw, try using this hack. This method works with any sliding miter saw and takes just seconds! All you do is attach the blade guard used for dust collection then clamp it in place at 90 degrees below the tabletop by taking advantage of two different holes that are pre-drilled into every standard miter saw. Now instead of cutting inside the workpiece, extend out past either side of the blade (depending on where your fence was – left or right). When extending past one edge be sure to drill a hole large enough so that when inserting bolts they will not touch any part of the spinning blades; basically creating an opening between them for safety reasons.
You will not be able to get a full 12″ cut, but you can go up to about 11 inches.
This hack is perfect for cutting wider baseboards on crown molding projects or larger sheets of plywood and MDF in the middle of a sheet without having to run back and forth with it from your chop saw. It also saves time because there's no need to remove the guard when done; just flip down into place!
Be sure that both sides are flush against the fence before making any cuts. You don't want them to shift while cutting causing an inaccurate cut line. Also, remember if using this method then you must use your miter saw as recommended by its design.
This is a guest post by Mark.