Before starting, one must know what a miter saw is? A miter saw is an electrical saw and used as a woodworking tool to cut precise angles. It has a blade that turns right or left to produce an accurate and angled cut. DIYer uses Miter saw for quickly cutting door/window frames, casings, and much more.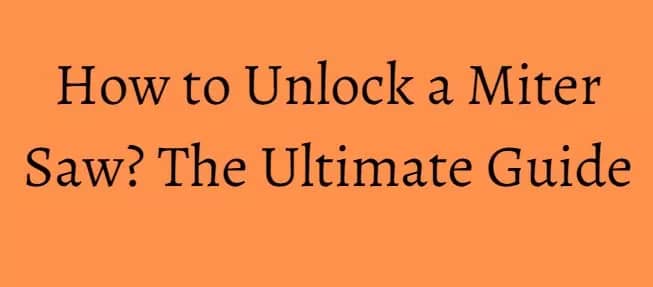 In recent times, A miter saw becomes a vital tool in any full-function workshops. And many people are beginning to learn it for its obvious reasons. A miter saw gives any worker a professional touch, but it can be harmful if not used properly.
Similarly, the safe usage of any machine requires detailed learning about it. The more you know about something, the better you can use it.
Miter Saw Types
Certain types of miter saws are available; hence their unlocking procedure depends on the type.
First, we roughly look into the types and then move to the very first and important point: How to unlock a Miter saw?
The types include:
Miter Saw: Any common wood-cutting saw with a table that adjusts the cross-cut angles.
Sliding Miter Saw: It has a railing operation that glides the blade back and forward and provides the maximum cutting ability.
Compound Miter Saw: It gives access to adjust the way to left or right to cut down through the wood at an angle.
Compound Sliding Miter Saw: provides mitering, beveling, and sliding options.
Dual Compound Sliding Miter Saw: provides access to all three functions with beveling to both left and right sides.
Parts of a Miter Saw
After getting familiar with the types, a beginner must aware of the parts of a Miter saw because every part is related to one another. Also, a DIYer must have a habit of giving attention to detail to save himself from any accident while performing.
Anyways, there are different parts of it, namely,
Brake button
Handle
Motor
Table
Miter arm
Lock lever
Degree scale
Trigger switch
Blade guard
Saw arm
Blade
Fence
Saw guard,
the arbor nut,
and arbor collar
How to Unlock a Miter saw
The process to unlock a Miter saw is quick yet effortless. DIYers usually prefer to lock the saw for apparent reasons, but unlocking it depends on the type of saw you own.
Unlocking a miter saw requires few elements that need to perform simultaneously. Remember, the way to unlock a saw is similar for all the types, but there's a possible chance that the pins hide in different spots.
Let's dive into the process so you can get back to working asap.
Disconnect the Power Button
First of all, it is better to unplug the miter saw and make the process safe and secure.
Unlock the Head
Unlocking a miter saw seems complicated but is not. It starts by unlocking its head first. That is common for all miter saws, and the easier way to do it is to put a little pressure on its head and push it down a little.
If you find any knob is present, pull that out, and the head gets unlock. Besides, if you have a sliding miter, find a lock on the slide and lose it until you feel the mechanism can move.
Unlock the Table
To unlock the table, one has to make some adjustments. Unlocking the base or table can be a little tricky; all you need is to focus on the right parts.
If you own a modern-day Miter saw, then you can easily find a knob designed to adjust the base to find a perfect angle for your cut. Anyhow, that knob would unlock the table for you.
Lock the Bevel
First, make sure your Miter saw has a moving bevel because I did not see that element in all the saws available in the market. So, if there is no tilting bevel present, you can skip this part.
However, to adjust the tilt, find and then slide the integrated stop near the base. It will stop the head from tilting and help you unlock the Miter saw.
Tips and Tricks of Using Miter Saw
Here are some tricks and suggestions that you can consider while working with a Miter saw.
Never compromise your safety. Wear security gloves, goggles, ear protection, etc., before getting in direct contact with the machine.
Always unplug a Miter saw before making any adjustment.
Lock the Miter saw as soon you finish your project.
Please don't hold the Miter saw handle while it's unlocked.
When you are not using a machine, keep the blade in the lower position.
Block the blade by removing the pin or pushing the button on the spindle when not in use.
Do not transport the Miter saw when it's unlocked.
Conclusion
Unlock a Miter saw can never be easy until you know what you are doing. Knowledge and practice can not promise to avoid utmost risk, but they can surely decrease the chance. The process is simple, quick, and will not consume your work energy. Also, locking the Miter saw is always a good idea when it's not in use for making the saw durable, and of course, for safety reasons.
You can lock the Miter saw by reversing the process of unlocking it. It should be quick and user-friendly. Besides, this article will help you get the job done without any professional assistance because you are on the way to turn out to be trained.
Also Read: Miter Saw Vs. Table Saw