Just like any other powerful tool, you must have a good jigsaw. But we all know that searching for the right and the best jigsaw is tough and time-consuming. Furthermore, it does not mean that you should quit searching for the best jigsaw 2022 for yourself.

Best Jigsaws 2022
1. Makita 4329K – The Best Jigsaw 2022
Are you looking for a Jigsaw that is best for both newbies and experts? Here we are going to discuss the Makita 4329K Jigsaw, which is the best option for newbies and also excellent for experts. This Jigsaw is a budget-friendly and high-end machine.
We are going to focus on the features which power tools offer, mainly used material, durability, power usage. When you are going to buy the jig, you must consider the Power, Performance, and functionality.
Machine Durability
This power tool Jigsaw 4329-k is manufactured with die-cast Aluminum, which is a high-quality material, and it adjusts up to 45 degrees right and 45 degrees left and stops at 90 degrees for solid cutting.
Blades
Tang-shank blades are used in this Jigsaw, and it is easy to fit in the tool-free blade because this blade has a tang on the top. These blades are used in a wide range in the market, and mostly these blades would be found with modern jigsaws.
Power
The manufacturing company fits a 3.9 AMP motor, which has the ability to provide the 500 to 3100 SPM (stroke per minute) on no-load.
Performance And Control
Its features and rubberized design decrease effort and increase efficiency and comfort. This machine has a variable speed control feature, which facilitates you to best cut on a wide variety of materials. The Makita top handle jigsaw has three orbital settings with straight cutting, which allows you to adjust the stroke style.
Functionality
Jigsaw 4329-k has a counterweight balancing system to reduce vibration. Makita uses a lock-on button, which helps to be focused on work whenever you want to make an extended cut, and a large trigger button to operate efficiently.
Pros
Lightweight
Speed capacity up to 3100 SPM
The high-Quality material used (Die-cast Aluminum)
30 days replacement and refund warranty
Counterweight balancing reduced vibrations
Cons
Hard to get an accurate angle
If you have been professionally working as a woodcutter, then you must be aware of the Jigsaw. The Jigsaw is prepared with an all-metal gear case which is durable for all the hardest tasks. It is the ideal tool for cutting delicate materials.
Its blades change quickly due to the keyless blade clamp. Bevel detents support accurate help beveling between 0° and 45°.
Power
This Jigsaw contains a 6.5 Amp inductive motor. It cuts any material with high accuracy while using an appropriate blade; it provides a smooth cut in both wood and metal sheets. It is also used for other cuts like ceramics, rocks, and granite, etc. Moreover, it gives a clear cut.
Speed
This is another essential factor. It provides 500-3100 SPM speed. Moreover, it is a speed control variable and permits a more accurate cut of the material. It is called a handle-top Jigsaw because it has a great form factor.
Blade
This Jigsaw uses the edge of industry-standard T-shank blades. These blades are also known for their accuracy and stability. Moreover, you remove the blades in a second. This is so easy to remove a blade in a jigsaw.
User- friendly
This Jigsaw weighs only 6.4 pounds. It has a lightweight due handle top jigsaw. It provides comfortable cutting.
If you have finally decided to buy this jigsaw, then make sure that it does come with an LED light, which usually makes it easy for you to cut the woods entirely.
Pros
Powerful and precise
It has a lightweight
These things cut like butter
Work fantastic
Cons
A little bit expensive
No LED light used for illuminating the cut line.
This is a powerful jigsaw to use, which has a 6.3 AMP motor that makes it more useful and powerful to operate. Ampere rage is not its only major feature to consider while searching for a jigsaw. Basically, with a more powerful motor and ease of working, it makes it a heavy-duty jigsaw.
Are you searching for a suitable and robust product in terms of price and performance? Then you are in the right place, Makita 4350FCT JigSaw reviews make it a perfect item that helps you to do daily routine work.
Power And LED light
The Makita 4350FCT is one of the best-corded jigsaws. Its power source helps it to become an excellent and powerful tool.
With LED light, the user can work in the right direction. By holding comfortably, they can quickly and relaxingly complete hard tasks without being bothered. An excellent substantial range will let the best jobs be performed with fantastic ease of work.
Easy on pocket And Variable Speed
If anybody wants to get the right product for use at an affordable price, this tool will be the best choice for them.
When I started the search for the product that I required, my main objective for the search was speed.
This Jigsaw includes speed control dialing, which varies from 800 to 2800 SPM. Maintaining this speed during cutting, this product proves to be excellent.
Safety
Everyone nowadays focuses more on safety while working with gadgets and electronic tools. Before using this tool, everyone should go through its user manual before installing or putting the product to work so that they have a better understanding of using this product before using it.
There is no battery or charger. In addition to this, you will have to buy a separate charger and a battery.
Pros
Comfortable handle
Well balanced Jigsaw
The high power of a battery
Possible to cut lots of curves
Changeable blower adjustment
Cons
The throat is more prolonged, but the tool works great.
Doesn't contain a battery or charger
Are you looking for an excellent jigsaw tool to excel in your carpentry skills? Then do not look any further. The new Bosh Power Tools jig saws -JS470E is the ultimate tool for your woodwork.
A jigsaw is an essential tool for carpentry and woodwork. It is used to cut curves and shapes on wood. A few different jigsaws are available in the market, and the choice can be challenging to make. To help you decide, here's a list of features that explain why the Bosch Power Tool Jig Saws- JS470E is a must-have product.
4 in 1
The Bosch jigsaw has a 0.7-amp power and has four different orbital action settings that provide options for different blade cuts from smooth to aggressive according to obtain desired results. This speed control feature is handy as it allows for different options for catering to different work needs and is best for cutting curvy shapes or edges.
Precision
The Bosch jig saw's new vibratory design keeps the machine firm and without even the slightest vibration. The internal precision system is designed to increases the accuracy of cutting. The vibratory design and the internal precision both provide smooth finishing to the cutting. A dust blower is also available to maximize visibility during cutting.
Security
This Bosch jigsaw tool includes a large, sturdy cast footplate with steel insert and on-board level wrench. It has a multidirectional clamp that gives an excellent grip on the T-shank blades. A lever to eject hot blades after use is also available to limit the contact with the hot blades and thus reduces the chances of getting burnt.
Control
Different speed options are available to adjust the speed according to the users' requirements. An adjustable dial is given from maximum speed to minimum. An accelerator trigger is also provided to control the operating speed of the Jigsaw.
A lock option is also available for user comfort and steadiness. A lock button is given to use the item steadily for longer cuts. To keep this machine safe, a carrying case is also provided.
However, this product is not dust resistant, which means that, when you cut through the lines, the dust will be roaming here and there.
Pros
High quality
Fast and precise
No vibration
Durable
Powerful
Easy handling
Lifetime runs
Speed control and lock option.
Cons
Intricate visual of the cutting-line
It is not dust resistant.
Best jigsaw is a necessary tool for professionals and for those who are crazy about crafting. Ryobi cordless jigsaw One+P523 jigsaw is a helpful gadget in woodcutting, vinyl flooring, plywood, plastic, and even cutting metals efficiently. It can do lots of complex material cutting tasks easily—the right choice for the right job to do quality work.
Cutting performance and Dust management
Excellent cutting performance with the range from 25mm to 300 strokes per minute that is huge that you can never imagine from such a little jigsaw. It also has a Built-in dust blower; it clears the working area by blowing debris off and gives the advantages to work with it more accurately.
LED light and portability
Most of the jigsaws are not having LED lights along with them, but it has such amazing features to make it more preferable. It works perfectly even on dark sides of the work area without any hurdle. In addition to this, no extra lights are required to work with this. Another Portable, pleasing quality makes it distinct from corded jigsaws as it is easily carryable anywhere.
Orbital action and speed
This jigsaw comes at a manageable pace; when the settings are at high speed, it will do work faster on wood. The top speed is preferable for straight cutting into lumber. The low rate works well for cutting and making curves on the metal.
Nevertheless, this instrument gives you the option to adjust speed according to your work, and it varies from 400 to 500 SPM. Some graphical instructions guide you about it's setting. However, many jigsaws work in up and down positions, but this Ryobi jigsaw also works in forward and back view and makes a stunning look of work.
Trigger locking system
There is a trigger lock system that allows you to focus on work instead of taking care of pressing the trigger. Just pull the trigger and press the button placed on the unit's side position for one time and activate the lock system.
The parcel will have the only gadget without any battery, so if there is not a battery, it may create bit of issues for you.
Pros
Light-weight
variable speed
LEDs light
Solid material
Easy to install blades
High carbon steel material
Affordable price
Cons
Not preferable for experienced.
While working, the power cable bother you, or make your task more complex, with the danger of short circuit, then this cordless DeWALT 20V Max Jig Saw DCS331B is made for you. This all-metal, powerful, cordless jigsaw model often more easy to use than the corded model. Smooth and precise bevel cutting, 3000 SPM with 3-year limited warranty ranked it at the top of cordless jigsaw list.
Easy to use
This jigsaw is a small, simple, handy tool, with the ease of changing the blade without using any key. Orbital action at four different positions provides better cutting quality. As far as the grip of this jigsaw concern is anti-slippery because of rubber material, which makes it more reliable.
Dust blower
Dust blower is the plus point of this jigsaw. This addition helps the person to look at the line of cutting, which makes the cut more accurate. Nonetheless, the position of the dust blower on this jigsaw is very close to the cut line, which easily blows the dust away quickly.
Power and Speed
This jigsaw has a maximum speed of 3000 strokes per minute; this is due to its powerful motor. Speed can be adjusted according to the nature of work. This speed with a suitable blade can make the cut very easy and fast.
Blade option and bevel cutting
Blades in this jigsaw can easily replace and has the feature of accepting different blades for different cuts, including the T-shank blade. Multiple blade feature makes this item more versatile.
Bevel cutting of this product at four different angles 0ᵒ, 15ᵒ, 30ᵒ, and 45ᵒ helps in the flexible cutting.
This jigsaw is sold as a tool only, no battery and charger are given with this item, which makes it a little bit expensive.
Pros
Makes difficult to cut easy
Battery mounted
Variable speed control
Good grip
Easy blade change
Blow wood dust
Cons
The extra expense of battery and charger
No LED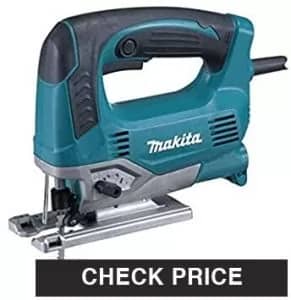 The best Makita top handle jigsaw, which is manufactured by Makita Brand. The top-rated company is having a ranking of 4.9 out of 5.
Wide range of cutting of huge list of materials and instruments, with lower vibration and comprehensive features.
Counter-balance system
The enhanced counter-balance system reduces the vibration amount for ease in the cutting journey. That helps in smooth cutting and also decreases the amount of danger.
Tool-free blade changing system
Makita introduces a tool-free blade system that creates vast ease for customers. Need to change the blade to cut the metal slide? No need for much effort to improve the blade, just open the old blade by losing the nut, remove the old module, and put a new knife.
Rubberized grip lock-on system And button
This trait also controls and reduces the substantial level of vibration. It's part of a counter-balance system.
The button on the top, placed on the grip creates the ease to power on/off the machine with an easy click of the thumb.
Size, Weight, And Body Dust Port
The size and weight lead to a sense of stability in the work. Small size and less weight create comfort and confidence to cut the material smoothly and perfectly.
The body dust port with vacuum affects its vibration. It decreases the vibration pressure to give comfort in cutting.
Since the beginners are less aware of the usage of the jigsaw, so there is a little chance of getting hurt if you are not aware of the instructions.
Pros
The design of the box and the body is straight.
Powerful yet small enough for tight spots.
Controls are easy.
Reasonable price
Light enough for a woman to use.
Easy blade replacement, no tool necessary.
It is helpful to be able to adjust the speed slower.
Cons
The product has little safety issues for beginners.
Are you a big fan of the woodwork? Are you tired of carrying dull saws around the worksite or garage of your house for DIY projects? Portable Cable provides you with a heavy-duty corded 6.0-amp Orbital Jig Saw to deliver power resolution for the demanding application at the worksite or home.
Power Machine With Variable Speed
The heavy-duty Orbital Jig Saw works with a 6 AMP current power supply. This Jig Saw from Porter-Cable is designed with a seven-position speed-dialer to provide multiple speed options for an optimal and precise cut of the various materials whether they are soft or hard. It has a variable speed motor that provides approximately 0-3,200-SPM; this is an exceptional rate of speed.
Orbital Blade and Variable blade attachment
The Four orbital settings deliver the best straight and angular cutting results. Tool-free bevel adjustments at 0°, 15°, 30°, and 45° makes bevel changes fast and easy. One of the prominent features of this JigSaw is that it also accepts any type of versatile Universal and T-shape blades available in the market.
Lock-on trigger button
One of the best variations in this JigSaw is the new lock-on button. The lock helps the user to perform continuous cutting operations without holding on to the trigger button for too long.
Cast shoes protective cover
The cast shoes not just only protect the blade, it also provides greater bevel accuracy and protection when cutting soft materials. The design of the machine offers a soft-grip handle and a front grip area to ensure control and comfort when in use.
One of the essential things to notice about this JigSaw is that this machine comes without any blade. You are required to buy powerful modules according to the surface or material you are working with.
Pros
Easy to use
Durable
Cheap
Can cut soft materials
Comes with Warranty
Cons
No Blade storage compartments
No Dust blower.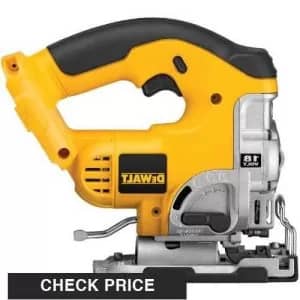 Professional woodworkers don't always work in a fixed place, and therefore, they need cordless tools. If you are a woodworker and often suffer because of the cables of your jigsaw tool, then we are going to introduce you to the best professional tool which is cordless and easy to carry.
Speed
Speed is the most crucial feature for mechanical tools that are used by professional workers. The speed range of Jigsaw ranges from 0-3000 SPM (strokes per minute). This allows using the tool on metals, plastics, solid wood and plywood, and even the wood embedded with nails. This amazingly speedy jigsaw tool enables the user to cut effortlessly through the straight surfaces and also the curvy ones.
Orbital action
The tool DC3308B has an orbital motion at four positions, which provides control over the speed and the quality of cut. Thus, the worker can easily manage speed according to the area he is handling and the type of material. Moreover, through the use of these orbital actions, soft plastics can easily be handled. The handling of soft materials is often delicate with the tools that lack this feature.
Detents
The shoe bevel of the cordless jigsaw has detents at four different angles 00, 150, 300, and 450. These orbital angles can be changed with the help of a single switch. Therefore, speed and cut quality adjustments can be made according to the type of material.
Dust blower
It doesn't let the chips stay on the cutting line. This assists the woodworker to have precise cutting. Removal of debris and dust from the material surface is essential for accurate cutting, and it has been made easy with the availability of inbuilt dust blowers in this cordless jigsaw.
You have to buy the charger and battery separately, as they are not included in this package.
Pros
Three years warranty
One year of free service
Cordless tool
Long battery life
Cons
Battery charger are not included
A bit expensive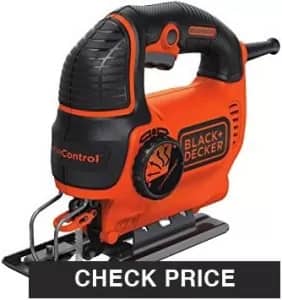 Due to its best review by woodcutting experts, this product is more likely and easily workable by any woodcutters. So we highly recommended this product for our woodcutters to use this Jigsaw, due to its best features and specifications.
Wire Guard And Curve control system
Wire Guard is the leading, new, and improved function of this machine. It gives the sight of a line that is most clear.
The main works, its curve control feature, which offers you to regulate the saw's in 1 to 4 different settings.  By these settings, you make different shapes on the wood. The nobs of  1, 2, and 3rd are for curve settings and the 4th for the straight-line cut.
Cutting power And Motor Power
It works, up to 3000 SPM (speed per minute) of cutting power. This machine-made for particular purposes is likely to cut wood in different aspects.
For Jigsaw, 5 amp variable-speed motor with 120 volts is the best. You cut wet wood quickly with this heavy-duty motor. No jamming found when you work with this Jigsaw.
The Slope On Wood And Blade Fittings
This machine builds forty-five (45 degrees) slope cuts on the wood, which is best in woodcutting.
For the fitting of blades, no external tool like a key, a screw of Jigsaw required. No tools are needed; either just remove the cover and adjust the T or U shank blade in the machine.
Dust Blower And Cut Depth
Cutting wood removes the whip in front of the line so that the cutting area is visible. All the dust remains near the machine, not Spread in a large area.
It cut the wood quickly into an in-depth area. Three to fourth sheets of wood are easily cuttable by this product.
The setting of the blade is a bit challenging. Nevertheless, if you are a beginner, then you will have to appoint a professional.
Pros
Smooth cuts
Fit perfectly
Beginner-friendly
Quick inserting blades
Cut through wet
Cons
Unsafe around kids
Blade setting efficiently
Best Jigsaws 2022 – Buyer's Guide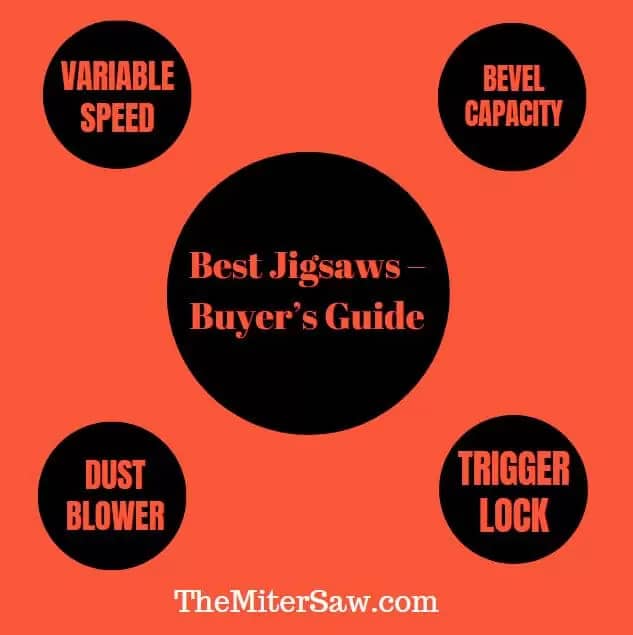 Variable Speed: This is such a little thing yet can have a huge effect contingent upon your solace and aptitude level. Variable speed is exceptionally straightforward in that it permits you to adjust the speed of the sharp edge dependent on the amount you press the trigger of the saw.
Dust Blower: Utilizing any observed will make dust, and that residue will be tossed everywhere with the indiscreet desert. Some of the time that implies even your cut-line will get shrouded in sawdust, making it troublesome or trying to see even with a laser or LED work light. This can adversely influence the nature of your cuts.
Bevel Capacity and Bevel Adjustment: An incline cut is any cut where the cutting edge isn't opposed to the material. The capacity to tilt the saw lodging (or shoe contingent upon how you see it) is unquestionably a convenient component when you need it.
Trigger lock: A trigger lock is another element to spare your hands, right now, hold. On the off chance that you have any drawn-out slicing to do, you'll immediately come to welcome this component as your hands, and lower arms can rapidly tire and issue from attempting to hold down the trigger while moving the cutting edge.
Best Jigsaws 2022 – FAQs
Can you cut straight with a jigsaw?
A jigsaw can cut a straight line in a wide assortment of materials, from wood and overlay to plastic, metal sheets, and even earthenware tile. The best approach to utilize a jigsaw to cut a straight line to some degree varies relying upon the straight line you have to cut.
Can I use a jigsaw to cut 2×4?
The key to doing straight cuts in 2×4 wood is to direct the jigsaw consistently, in one go. For whatever length of time that the pace is moderate and reliable, you will be fine by permitting the sharp edge to accomplish crafted by cutting for you – maintain the attention on following the cutting line as you control the speed and pace of the cut.
How thick can a jigsaw cut?
Jigsaws work best for cutting softwood that is close to 1-1/2 in. Thick and hardwood up to 3/4 in. Thick. Jigsaw sharp edges will in a general twist when cutting bends in more compressed loads up, leaving an angled edge as opposed to a starting point.
Can you use a jigsaw vertically?
The jigsaw is the younger sibling of the responding saw. Use it to make practically any sort of vertical cut on wood that requires a progressively fragile touch. It won't slice through nails or screws effectively however is fine for most materials up to around 1 inch thick.
Final Verdict
We hope you will like our article on the best jigsaws 2022. Do let us know your views in the comments section and check out our buyer's guide on the best miter saws review.
Also Read: Best Scroll Saws